Low Carb Sugar Free Chocolate Birthday Cake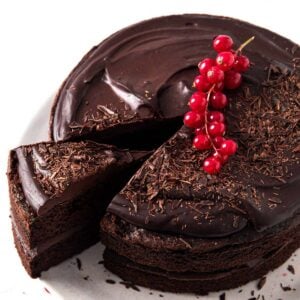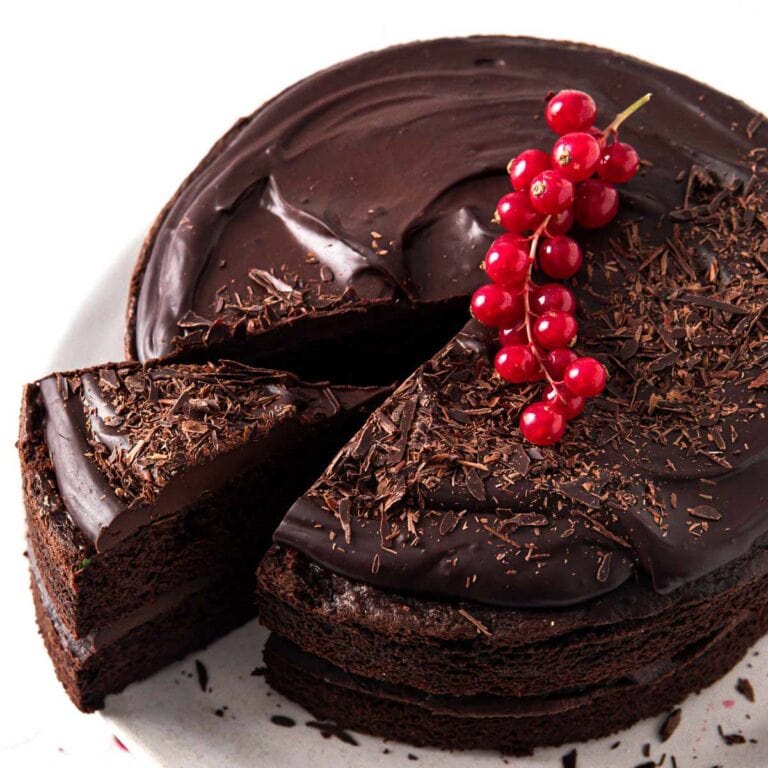 Need a sugar free birthday cake for someone who is on keto or diabetic? Or do you simply LOVE chocolate cake? This chocolate ganache layer cake is the perfect celebration cake for chocolate lovers. The amazing thing is that you make the cake in a BLENDER - there's only 10 minutes prep!
Servings 16
Calories 302kcal
Ingredients
Chocolate Sponge
7 large eggs
1/3 cup / 84g Greek yoghurt
2 tsp vanilla extract
2/3 cup / 170g almond milk
1/3 cup / 45g coconut flour
1 cup / 90g cacao powder
1 1/4 cup / 200g powdered sweetener (So Nourished)
3 tsp baking powder
2 tsp bicarbonate of soda
1/3 tsp salt
Chocolate Ganache
1 cup plus 2 tbsp / 200g sugar free chocolate chips or 85 - 90% dark chocolate roughly chopped
1 cup/ 240ml heavy cream
Instructions
Chocolate Sponge
Preheat the oven to 180C / 350 Fahrenheit. Generously grease two 21 x 4 cm round non-stick baking tins with butter.
Add all ingredients to blender, starting with the wet, and blend until smooth. You may need to scrape the sides a couple of times and blitz again.
Spoon the mix into your greased baking tins and bake for about 35 minutes or until you can insert and remove a skewer without any crumbs sticking. Do not over bake as it will firm up as it cools.
Allow to fully cool.
Ganache
Place the cream in a pan on med/ low and heat until hot, just as it starts to simmer. Do not boil. Turn off the heat.
Chop the chocolate quite fine. Add to the hot cream. Do not stir. Let the mixture sit for 5 minutes. Stirring will cool down the mix too quickly and may result in splitting.
Stir with a spatula until melted. If your ganache splits, don't panic, just put in a food processor and blend until smooth and it will right itself. Allow to cool for a couple of minutes so not boiling but still easily spreadable.
Assembly
Spread the ganache on the top of both cakes. Allow to set and then stack the cakes one on top of the other.
Nutrition
Calories: 302kcal
Total Carbohydrates: 13.1g
Protein: 9.3g
Fat: 26.1g
Saturated Fat: 11.3g
Fiber: 7.6g
Sugar: 1.7g
Thank you to…
https://sugarfreelondoner.com/sugar-free-low-carb-chocolate-birthday-cake/#recipe