Keto Seed Crackers Recipe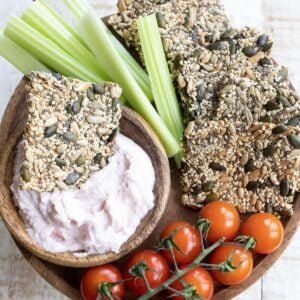 This easy keto seed crackers recipe is a life-saver for when the snack cravings come! Delicious with dips such as guacamole or taramasalata, perfect for a cheese board or mezze platter and also great solo!
Servings 24 crackers
Calories 63kcal
Ingredients
¾ cup / 105g sunflower seeds
½ cup / 65g pumpkin seeds
½ cup / 72g sesame seeds
3 tbsp / 24g chia seeds
1 tbsp psyllium husk powder or 2 tbsp psyllium husks
¾ cup / 180ml water
generous pinch salt to taste
Instructions
Preheat the oven to 150C / 300F.
Combine all ingredients in a bowl. Mix well and let rest for 20 minutes so the mixture can thicken.
Transfer your cracker "dough" onto parchment paper and place another sheet of parchment on top. Roll out using a rolling pin or flatten with our hands into a thin layer. Transfer the parchment onto a baking tray. My mix covered a 30 x 40 cm baking tray and I had a few offcuts which I baked on a second tray.
Now, remove the top parchment and pre-cut into squares using a pizza cutter or a knife. Don't miss this step!
Bake for about 1 hour or until all water has evaporated and the keto crackers are lightly browned and crisp. Oven time will depend on how thick or thin you have rolled out the dough. Thicker crackers may need 10-15 minute more.
Let cool completely before separating the crackers and storing.
Notes
1g net carbs per cracker. My mix made 24 generously sized, filling 7 x 7 cm crackers.
Optional add-ins:
1 tsp garlic powder and / or 1 tsp onion powder
2 tsp herbs such as thyme, oregano or rosemary
2 tsp zataar or everything bagel seasoning
1 tsp paprika or nigella seeds
2 tbsp grated parmesan or nutritional yeast flakes
Store in an airtight container at room temperature for up to 3 weeks.
Nutrition
Calories: 63kcal
Total Carbohydrates: 2.3g
Protein: 2.5g
Fat: 5.4g
Saturated Fat: 0.7g
Fiber: 1.2g
Sugar: 0.2g
Thank you to…
https://sugarfreelondoner.com/keto-seed-crackers-recipe/#recipe