Keto No Bake Cookie Dough Bars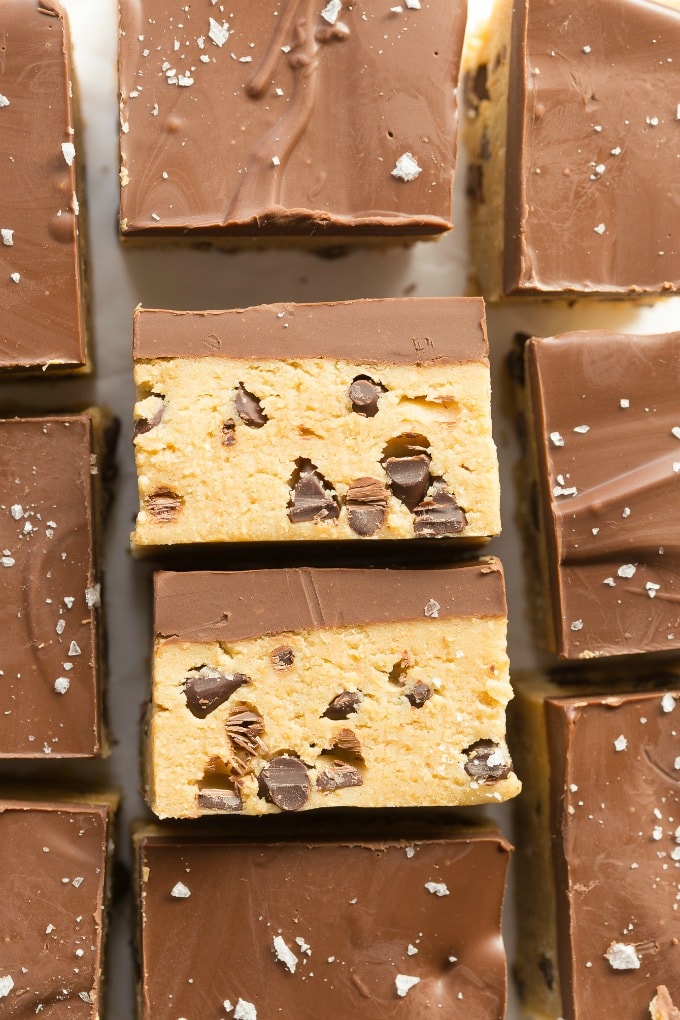 No Bake cookie dough bars (unbaked cookie dough bars) is like eating edible eggless cookie dough, and it takes 10 minutes! You only need 5 ingredients to make this delicious no bake dessert recipe! 
Servings: 16 Bars
Calories: 186kcal
Ingredients
1/2 cup coconut oil
1/2 cup keto maple syrup can substitute for traditional maple syrup or agave nectar
3 cups blanched almond flour
1/2 tsp sea salt
1-2 cups keto chocolate chips can use any chocolate chips of choice
Instructions
Line an 8 x 8-inch pan with parchment paper and set aside.
In a microwave-safe bowl or stovetop, add your coconut oil with maple syrup and heat until melted. Whisk together until combined.
Add your almond flour and salt and mix very well, until a thick, crumbly texture remains. If the batter is too thin, add a little extra almond flour. Fold through 1/2 cup of chocolate chips.
Transfer the cookie dough bar batter into the lined pan and press out into an even layer. Refrigerate.
Melt your remaining chocolate chips and pour over the tops of the cookie dough bars and refrigerate until it firms up. Top with extra salt and slice into bars.
Notes
Healthy No Bake Cookie Dough Bars can keep at room temperature, for up to 7 days.
Cookie dough bars are best stored in the fridge, in a sealed container, for up to 2 weeks.
Healthy Cookie Dough Bars are freezer friendly and can be stored in the freezer for up to 6 months. 
Nutrition Information
Serving: 1Bar
Calories: 186kcal
Carbohydrates: 6g
Protein: 5g
Fat: 17g
Potassium: 5mg
Fiber: 3g
Vitamin A: 200IU
Vitamin C: 4.1mg
Calcium: 30mg
Iron: 0.5mg
NET CARBS: 3g
Thank you to…
No Bake Cookie Dough Bars (Keto, Vegan, Paleo) - The Big Man's World ®