Keto Mozzarella Sticks ( Air Fryer)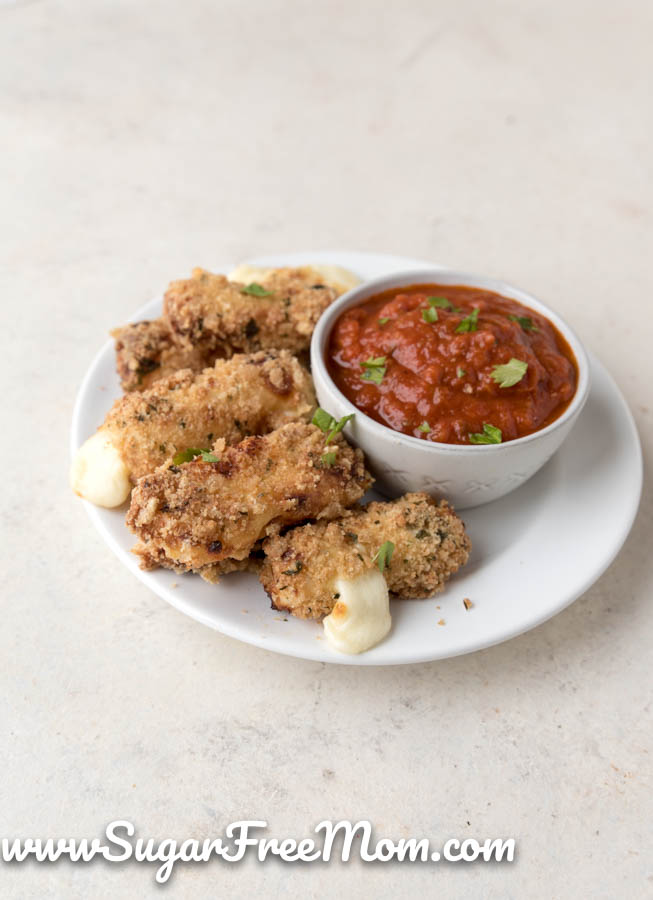 Servings 8 @ 4 per serving
Calories 241 kcal
Ingredients
1 pound mozzarella cheese sticks (16 sticks)
1/4 cup unflavored whey protein powder
1 large egg
1 tbsp heavy cream
25 cup crushed pork rinds
1/2 tsp salt
1 tsp dried parsley
1/4 tsp onion powder
Instructions
Cut the mozzarella sticks in half and set aside on a baking sheet pan lined with parchment. You should have 32 halves. Freeze these for 30 minutes.
In a shallow bowl, place the whey protein powder.
In another shallow bowl, whisk the egg and cream together.
Whisk together the crushed pork rinds, salt, parsley and onion powder in another shallow bowl.
Roll mozzarella sticks into the whey protein powder, then coat with the egg mixture, then roll in pork rind mixture and place on the baking pan while you finish the rest.
Place as many sticks as you can without touching each other, on the air fryer tray. I have an extra large basket and can fit 12 pieces. Coat the sticks on both sides with olive oil or coconut oil cooking spray which will give them that nice golden color.
Air fry at 400 degrees F for 4-6 minutes. Enjoy with my homemade keto marinara sauce!
Nutrition Facts
Amount Per Serving (1 serving @ 4 sticks)
Calories 241 Calories from Fat 153
Fat 17g
Saturated Fat 8g
Trans Fat 1g
Polyunsaturated Fat 1g
Monounsaturated Fat 1g
Cholesterol 66mg
Sodium 681mg
Potassium 10mg
Carbohydrates 2g
Fiber 1g
Sugar 1g
Protein 16g
Thank you to…
https://www.sugarfreemom.com/recipes/keto-mozzarella-sticks-nut-free-air-fryer/