Keto Low-Carb 4 Ingredient Peanut Butter Cookies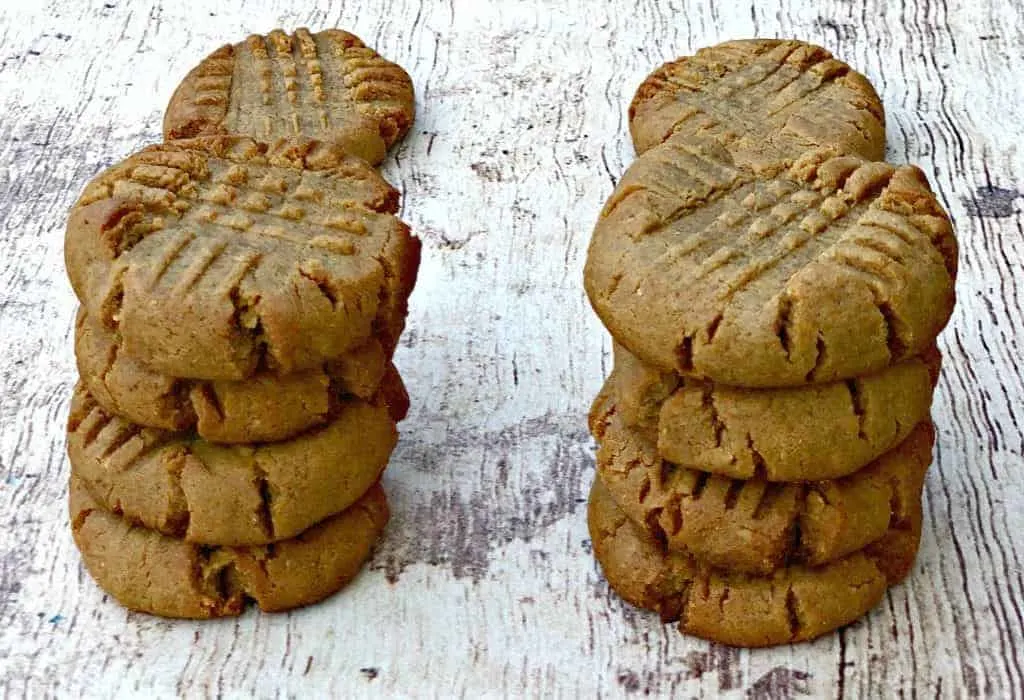 Keto Low-Carb 4 Ingredient Peanut Butter Cookies is a quick and easy, dairy-free, paleo, and gluten-free recipe with video.  These cookies are low-calorie and have 100 calories and 1 gram of net carbs! This dessert is perfect for ketosis and the ketogenic diet.
Servings: 15
Calories: 102kcal
Author: Brandi Crawford
Equipment
Silicone Baking Mat
Silicone Spoon
Cookie Scoop
Ingredients
1 cup natural, unsweetened peanut butter. Truly, natural peanut butter should have oil and require you to stir. You can also use nut butters, such as almond.
1/2 cup sweetener 
1 egg
1 teaspoon vanilla extract
Instructions
Preheat oven to 350 degrees.
Combine the ingredients in a large bowl. Stir to mix well.
Make 12-15 balls using the cookie dough. (If you prefer really flat cookies you should aim for 15. Slightly thicker cookies will result in about 12 cookies). An ice cream scoop works well, so does rolling the balls in your hands.
Line a cookie sheet with silicone baking mats. You can also use parchment paper. Place the cookie dough on the cookie sheet. Make sure the cookies do not touch.
Use a fork and press down on each ball of cookie dough. Create crisscross imprints in the cookie dough to flatten the balls.
Bake for 12-15 minutes until the cookies are golden brown. Mine were ready around 13 minutes.
Remove the cookie sheet from the oven. Allow the cookies to cool for 1-2 minutes on the cookie sheet before removing. The cookies will need to firm up BEFORE you handle them. If you handle them too soon they will crumble. Use your judgment on timing if 1-2 minutes does not appear to be enough.
After 1-2 minutes place the cookies on a cooling rack to fully cool.
Notes
Macros are provided as a courtesy and calculated using MyFitnessPal. Calculate your specific macros using the exact brand ingredients you use and the macros calculator of your choice. Net Carbs = Total Carbs - Dietary Fiber - Sugar Alcohols like Xylitol and Erythritol.
I typically use unsweetened almond milk for everything. It pairs wonderfully with these cookies and is keto friendly.
If you would like cookies with chocolate chips use 1/4 cup and simply fold in the chocolate chips right before you mold the cookie dough into balls.
Nutrition Values
Serving: 1 cookie
Calories: 102kcal 
Carbohydrates: 1g 
Protein: 5g 
Fat: 9g
Thank you to…
Keto Low-Carb 4 Ingredient Peanut Butter Cookies + {VIDEO} (staysnatched.com)