Keto Crispy Baked Eggplant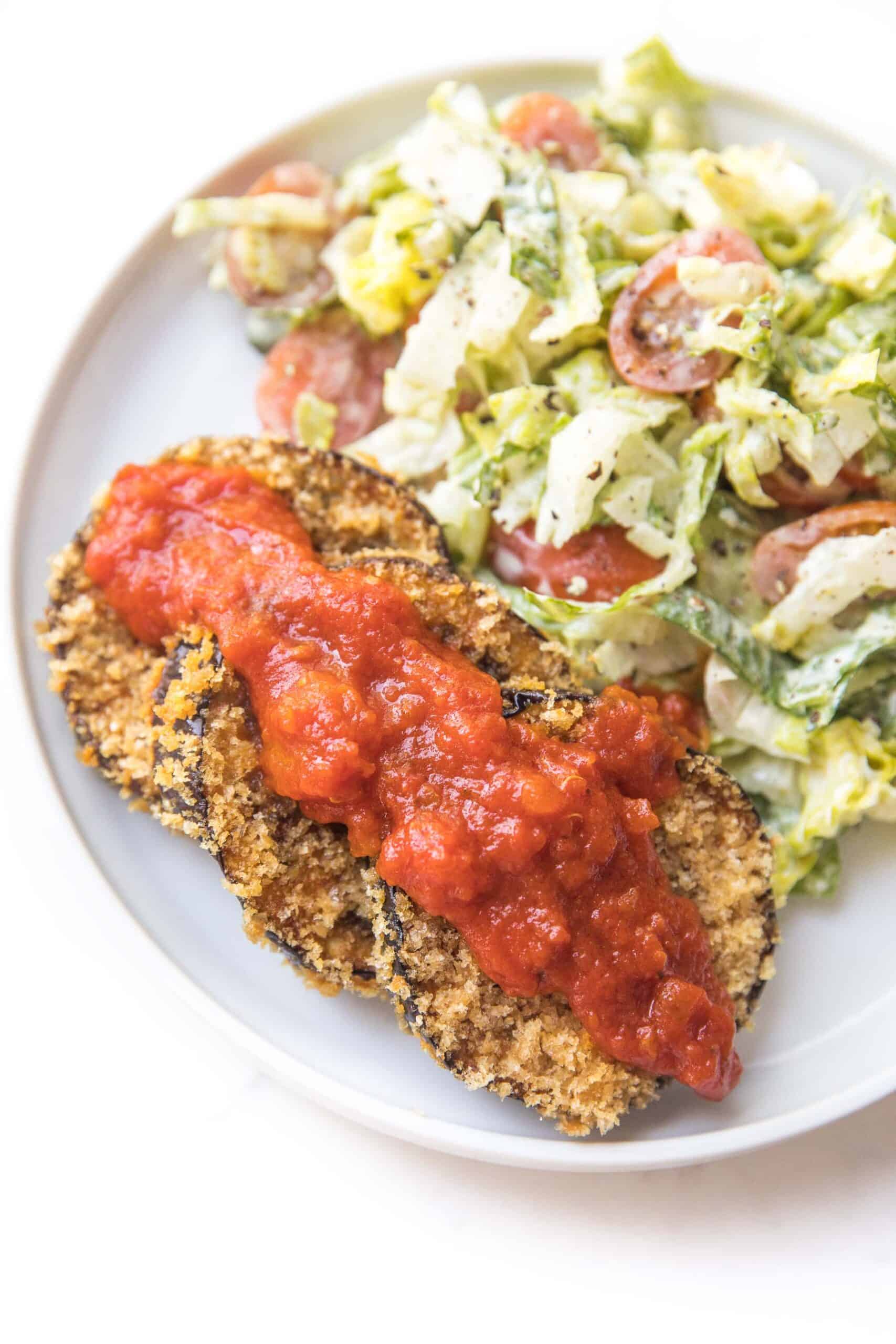 Ingredients
2 medium eggplants, sliced into 1/2" thick rounds
1 tablespoon salt
2 cups pork rind panko
1 egg
1/2 cup marinara sauce or pesto to serve on top
Instructions
Preheat oven to 425ºF. Place a wire rack inside a rimmed baking sheet.
Lay the sliced eggplant on the wire rack. Salt them on both sides and let them sit for 10 minutes. This will draw out the excess water, draw out the bitterness, as well as seasoning them. After the 10 minutes, squeeze them with a paper towel to absorb all the excess moisture.
Set up your dredging station. In a large bowl, beat the egg. In a separate bowl, add the pork rind panko. Dip the eggplant slices in the egg, drip off excess, then coat in the pork rind panko on both sides, pressing lightly to adhere. Place the coated eggplant on the wire rack set in the rimmed baking sheet. Repeat with all the eggplant.
Bake for 40-45 minutes, until the eggplant is soft and the exterior coating is extra crispy.
Serve warm, topped with marinara sauce or pesto sauce. I love serving mine with a caesar salad!
Notes
The food photo has just 3 eggplant slices on the plate. But when I eat this I'll eat for sure 6. Assume 1 eggplant per person if you're serving the eggplant as the center of the meal. If it's being served as a side this would feed 4 people.
Nutrirtion
Serves 2
Calories Per Serving: 252
Total Fat 13.7g
Saturated Fat 4g
Trans Fat 0g
Cholesterol 134.9mg
Sodium 4199.2mg
Total Carbohydrate 9.9g
Dietary Fiber 3.6g
Sugars 6.2g
Protein 23.1g
Vitamin A 61.3µg
Vitamin C 3.1mg
Calcium 40.7mg
Iron 1.1mg
Vitamin D 1µg
Nutrition information is a rough estimate.
Thank you to…
https://www.tasteslovely.com/whole30-keto-crispy-baked-eggplant/?utm_campaign=later-linkinbio-tasteslovely&utm_content=later-12821559&utm_medium=social&utm_source=instagram