Keto Chocolate Cookies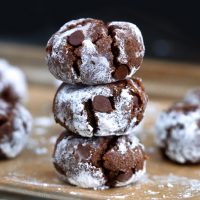 Rich, fudgy, and completely flourless keto chocolate cookies!
Yield: 8 – 12 cookies
Ingredients
1 cup finely ground almond flour
2 tbsp cocoa powder
scant 1/4 tsp salt
1/8 tsp baking soda
1/4 cup mini chocolate chips or sugar free chocolate chips
3 tbsp powdered sugar or powdered erythritol
2 tbsp milk of choice
1 tbsp coconut oil or additional milk
optional powdered sugar or erythritol to coat
Instructions
Preheat oven to 325 F. Stir dry ingredients very well. Add wet to form a dough. (If you're a visual person, feel free to watch the quick video above of me making the cookies.) If too wet, refrigerate until firm enough to roll into balls with your hands or a cookie scoop. Bake on a greased or parchment-lined tray for 11 minutes. If you want flatter cookies, press down with a fork or spoon. Let cool before handling. If desired, roll in additional powdered sugar or erythritol. Note: Don't omit or cut back on the amount of chocolate chips or the cookies will not be as fudgy and delicious!
Nutrition Values
Servings: 12
Amount per serving
Calories: 71
Total Fat: 5.5g
Saturated fat: 1g
Cholesterol: 0mg
Sodium: 54mg
Total carbohydrate: 4.4g
Dietary Fiber: 1.8 g
Total sugars: 0g
Protein: 2.4g
Thank you to…
Keto Chocolate Cookies - The BEST Cookies Ever! (chocolatecoveredkatie.com)