Keto Cheesy Waffle Fritters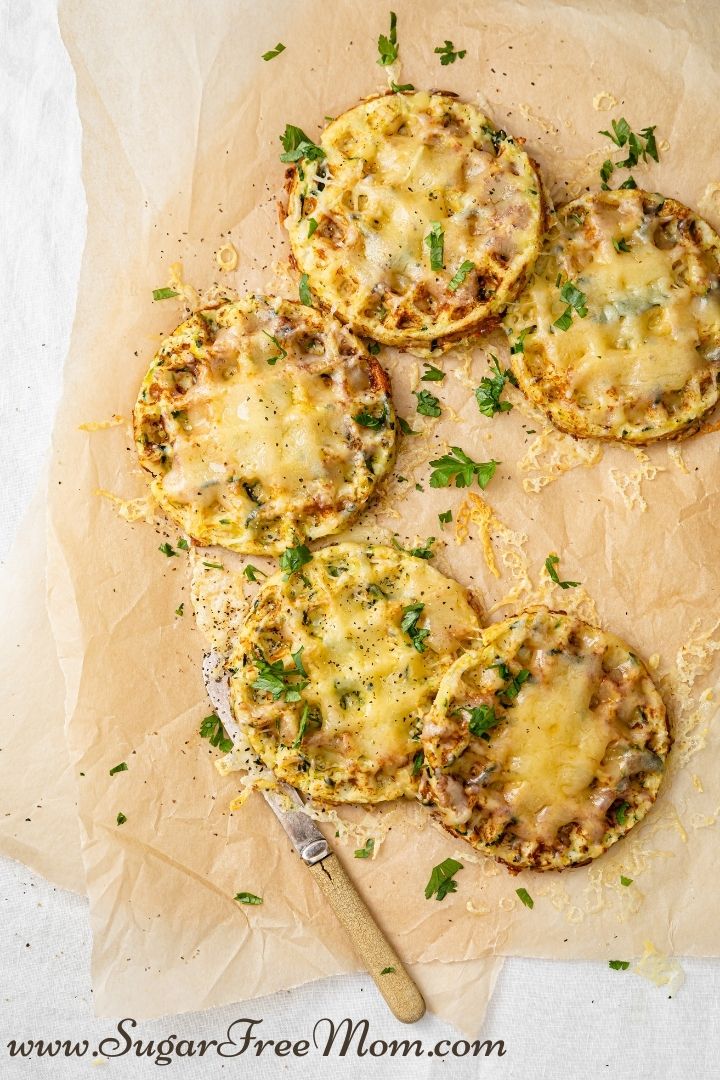 Love waffles? Love fritters? Today I've combined two great loves into one with these Low-Carb Veggie Cheesy Waffles.
Cook Time 35 minutes
Servings 7 MINI WAFFLES
Calories 142 kcal
Ingredients
15 oz cauliflower florets
15 oz zucchini
1 cup cheddar cheese grated (or 113g)
2 tbsp butter melted
1 large egg
3 tbsp coconut flour (or 24g)
5 tsp salt
1/4 tsp black pepper
3/4 cup cheddar cheese grated (for grilling) (optional)
Instructions
Preheat your non-stick waffle iron. I used a mini Dash waffle maker.
Shred the veggies in a food processor like you would to make cauliflower rice.
Place the shredded veggies in a heatproof bowl and microwave on high for 6 minutes. Allow to cool for a few minutes then place into a muslin cloth or clean fine tea towel and squeeze out the excess water.
Place the compressed veggies back in your mixing bowl and add 1 cup of grated cheese, melted butter, egg, coconut flour, salt and pepper. Mix with clean hands to combine.
Add enough mix to fill the waffle iron. For the mini Dash, it's about 1/3 cup and flatten.
Close the waffle iron lid and cook for about 2.5 minutes, lift the lid and wait for 30 seconds before lifting out with a knife. This help with easy removal. Check occasionally towards the end to ensure they don't burn. Each waffle iron will cook differently so test one as you may need to adjust your cooking times slightly.
Repeat for all the remaining mix. Once the waffles are cooked, option to place on a non-stick baking tray, top with grated cheddar and place under the broiler until melted, about 2 minutes. Option to also top with fresh herbs or dried Italian herbs.
    Storage: Best fresh
Nutrition Facts
Amount Per Serving (1 waffle)
Calories 142
Fat 10g
Saturated Fat 6g
Trans Fat 1g
Cholesterol 52mg
Sodium 667mg
Potassium 368mg
Carbohydrates 7g
Fiber 3g
Sugar 3g
Protein 7g
Thank you to…
https://www.sugarfreemom.com/recipes/savory-keto-veggie-cheesy-waffles/