Keto Buffalo Chicken Cauliflower Mac and Cheese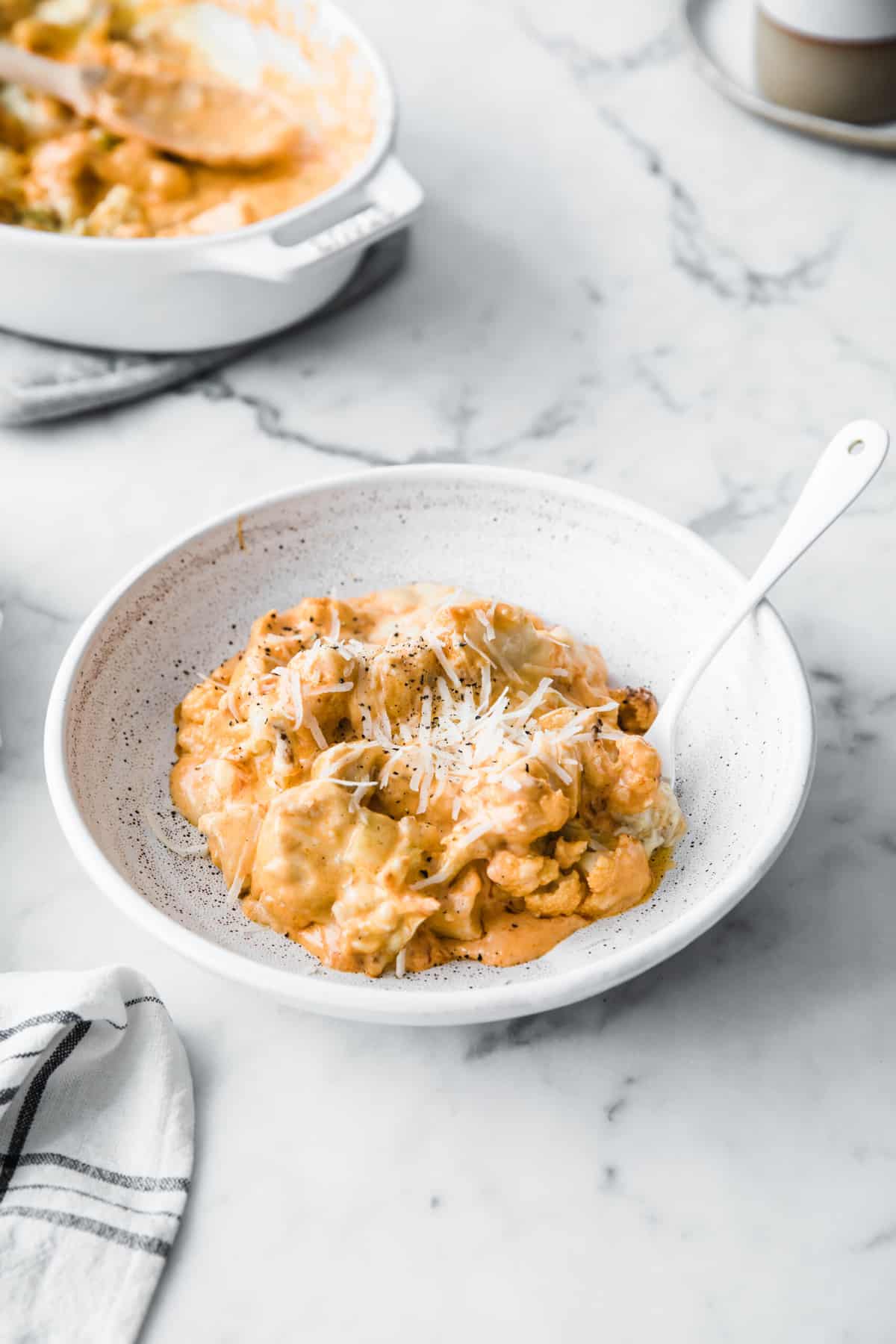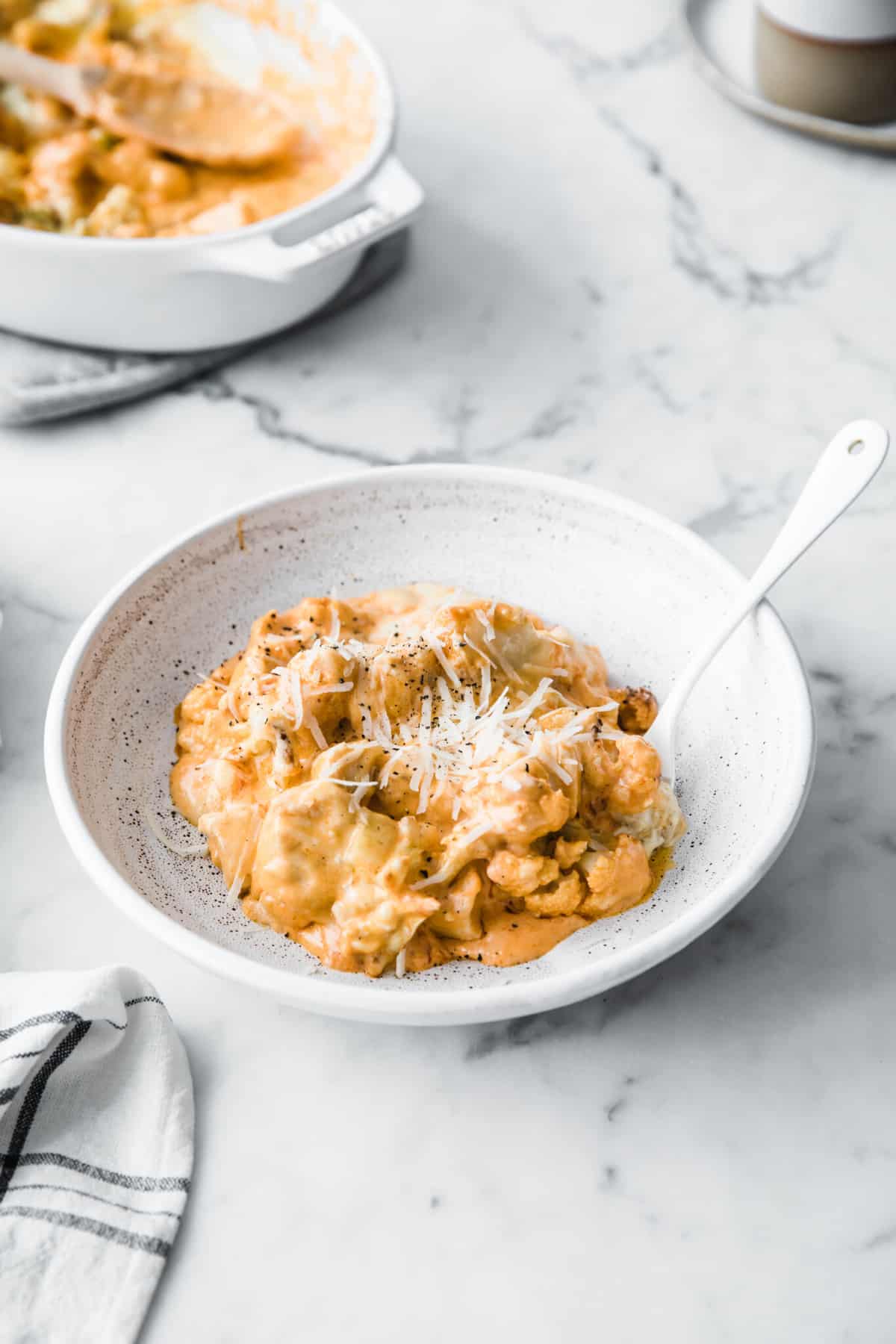 This rich and cheesy keto mac and cheese recipe is the ultimate in comfort food. The spiciness of the buffalo sauce, the cooling blue cheese, paired with the crunchy celery and tender, juicy chicken, make it perfectly balanced in flavor.
Ingredients
1 large head cauliflower (about 2 ½ pounds), trimmed and cut into small florets
2 tablespoons olive oil, divided
Sea salt and ground black pepper
1 pound boneless, skinless chicken breasts or thighs, cut into bite-sized pieces
½ cup buffalo wing sauce
1 tablespoon butter
2 cloves garlic, minced
1 ½ cup heavy cream
1 ½ cups shredded mozzarella cheese
½ cup crumbled blue cheese, divided
1/3 cup cream cheese, softened
¼ cup finely Parmesan cheese
1 rib celery, diced
Instructions
Preheat the oven to 400°F.
Line the cauliflower in a single layer across a rimmed baking sheet. Drizzle 1 tablespoon of the olive oil over top and season generously with salt and pepper. Roast for 20 minutes or until tender and golden brown.
While the cauliflower is roasting, heat the remaining 1 tablespoon of olive oil in a large skillet over medium-high heat. Add the chicken to the pan and cook until it is golden brown and cooked all the way through, about 8 minutes. Add the buffalo wing sauce to the chicken and toss to coat.
In a large sauce pan, heat the butter and garlic over medium heat. Cook until the butter starts to brown slightly and the garlic is fragrant. Then add the heavy cream, 1 cup of the mozzarella, ¼ cup of the blue cheese, cream cheese, and parmesan cheese. Stir to melt and mix in the cheeses and then reduce the heat to low.
Transfer the cauliflower to a large casserole dish. Layer the chicken over top and then pour the cheese sauce over top. Use a rubber spatula to mix the layers together just slightly.
Sprinkle the remaining mozzarella, blue cheese and celery on top. Transfer the casserole dish to the oven and bake for 15 minutes or until it is bubbling and golden brown on top.
Notes
Roasting the cauliflower keeps it dry and imparts a beautiful flavor and texture. When you steam cauliflower or even simmer it directly in water, it absorbs all the moisture like a sponge and can turn your dish into a soupy mess.
If you are not a fan of blue cheese, this recipe is also delicious with feta or goat cheese
    Net Carbs Per Serving: 6.6g
Nutrition
Serving Size: 1/8th of the recipe
Calories: 416
Fat: 33.7g
Carbohydrates: 8.8g
Fiber: 2.3g
Protein: 22.2g
Thank you to…
https://peaceloveandlowcarb.com/keto-buffalo-chicken-cauliflower-mac-and-cheese/#tasty-recipes-36824-jump-target